The Road to Dhimmitude is Paved with Good Intentions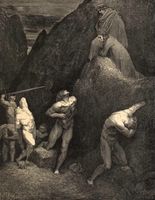 Mohammed in 8th Circle of Hell, from Dante's Inferno (illustration by Gustave Dore)

WaPo, page C10, 1/25/05. Italics added by Suburban Cowboy: On School Reading Lists: A Big Eraser Synopsis: DC area education professionals decide which works of literature are approved for secondary school students. Parental concerns about the chosen texts are inconsequential. Students are rarely, if ever, excused from reading approved, required books. WaPo authorities cited include "Maryland-based writer and librarian Chris Zammarelli, who writes the "Banned Bookslut" column for Bookslut, a monthly web-zine". Sigh. But then, there's this: "Most recently, a Muslim mother expressed concern about (required text "Dante's Inferno") because Muhammad occupies the innermost circle of Hell. In such cases...alternate texts are always available"