As If He Could Say Anything BUT This!
Clinton: Hillary would be an 'excellent president'

BILL!!!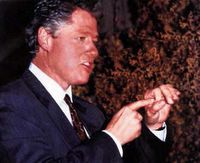 See, honey, ...it was all a big mistake...!

The Associated Press
, Updated: 3:57 p.m. ET Feb. 27, 2005

TOKYO - Former President Clinton said Sunday that his wife, Hillary, would be an excellent choice as the first female leader of the world's most powerful nation...
http://www.msnbc.msn.com/id/7041441/