Chinese Epicures Outraged
KFC pulls two items from its Chinese menu
Associated Press
Updated: Thu. Mar. 17 2005 7:26 AM ET
KFC outlets in China have apologized to customers and stopped selling "New Orleans" flavor roast chicken wings and chicken burgers after finding a seasoning used in the products contains an industrial dye linked to cancer.
"We feel deeply sorry for this food safety accident and promise it will never happen again," Yum Brands Inc., parent company of KFC, said in a statement received Thursday.
Yum, based in Louisville, Kentucky, did not name the supplier of the contaminated seasoning, which it said contains Sudan I, a red dye used for coloring oils, waxes, petrol and shoe polish that has been linked to cancer...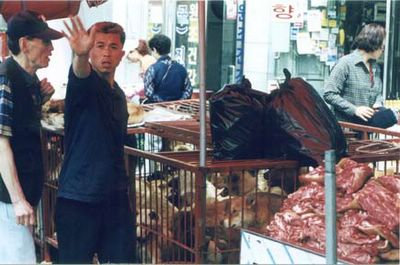 A local gourmet expresses outrage at the Colonel.
Note delicious canines in pens.
http://www.ctv.ca/servlet/ArticleNews/story/CTVNews/1111062467733_56/?hub=Health